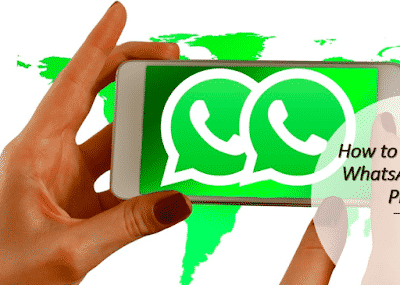 WHATSAPP WILL ALLOW YOU TO USE THE SAME NUMBER ON DIFFERENT PHONES


Great news for those of us who use multiple mobile phones and a single WhatsApp account: it will soon be possible to have the same account on different devices.With more than 2 billion monthly users, it still does not support multiple devices for the same account, something that is possible with telegram, for example. A phone number equals a phone or a tablet, and that's a problem when we have multiple devices.



Currently there are solutions to allow two different numbers on the same phone (for dual SIM devices or WhatsApp Business users), but there is no way to have the same account on more than one mobile: when activated on a new mobile, deactivate in the previous ones. Now WhatsApp is already working on this.



How to Create Fake Whatsapp Account with US, UK, Canada Number 2020
How to enable whatsapp dark night mode android ,ios 2020 new Update


WABetaInfo discovered signs of compatibility with multiple devices on WhatsApp in November 2019 on iOS and Android. A feature asked for a new security code from a secondary phone, and a hidden warning text in chats suggested the possibility of having multiple devices per recipient. Now, in the latest beta version of WhatsApp v 2.20.110, WABetaInfo uncovered more clues related to multi-account support.


Still, it is still unknown how it will work. We do not know if the first device will continue to be the main one and will need to be online for the others to work, just like what happens with WhatsApp Web, or if the devices would be independent and the contents would be synchronized just as telegram does.


At the moment the function is in development and cannot be enabled manually, but we will surely see it in a next version of the application.



How to Create Fake Whatsapp Account with US, UK, Canada Number 2020
How to enable whatsapp dark night mode android ,ios 2020 new Update