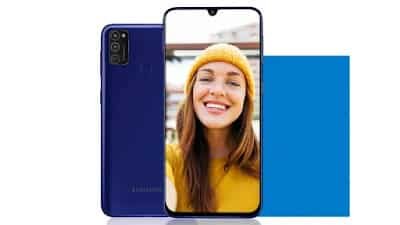 Samsung introduced Affordable Galaxy M21 Price Specifications


Samsung introduced the mid-budget smartphone Galaxy M21 Samsung launched the Galaxy M21 in India, its latest smartphone in the M series. It is equipped with a 6.4-inch Full HD + Infinity-U Super AMOLED display, the latest 10-nm Exynos 9611 single-chip system with 4 GB of RAM, has 48- A megapixel camera, an 8-megapixel super-wide 123 ° camera, a 5-megapixel depth sensor and a 20-megapixel front camera.






In many ways, the Samsung Galaxy M21 is similar to the Galaxy M31 presented a couple of weeks ago, a review of which has already been published on our website. In this article, we will definitely compare these smartphones, but we will start, as usual, with the passport data of the new product.



Samsung Galaxy M21
Samsung introduced Affordable Galaxy M21 Price Specifications
If we were asked to highlight the key features of the Samsung Galaxy M21, we would choose a battery and a screen. Why? Because "killing" the battery in one day, in fact, is impossible. To do this, you will have to play heavy games from morning to night, and this is hardly even the most inveterate gamer can do. Although, anything happens … The screen is good in that it is built on an AMOLED matrix, and not with low, but with normal Full HD + resolution.
Battery
Samsung introduced Affordable Galaxy M21 Price Specifications
The Samsung Galaxy M21 is powered by a 6000 milliamp-hour battery. It seems that Samsung has decided to stake out all the first lines in all sorts of autonomy ratings. While competitors are mastering 5000 mAh batteries, Koreans are actively putting 6000 mAh power plants into their new products. And it is right. Users love autonomous phones. Fast charge supported. The Samsung Galaxy M21 is charged by a 15-watt power adapter that comes with the phone. The power supply is connected via Type-C.
The picture shows a large (although is it so big by today's standards?) Display with a diagonal of 6.4 inches. As we already said, the Samsung Galaxy M21 uses an AMOLED matrix with a resolution of 2340 by 1080 pixels. In general, a complete order, you can complain only on a drop-shaped cutout in the center of the upper edge. It has a front camera with a resolution of 20 megapixels.
CPU and memory
The smartphone is built on a proprietary hardware platform Exynos 9611. The chip is produced according to the standards of 10 nm lithography, it has eight cores, of which two powerful operate at a frequency of 2.3 GHz. The Mali-G72 adapter is responsible for the graphics, which is also good. In general, iron is in order, you can play games on the new product. And in some even at high settings.




RAM in the Samsung Galaxy M21 a bit – 4 GB. There should be another version of 6 GB of RAM, but so far it has only been announced, there is no information about the price and release date of such an assembly. As for the configuration with 4 GB, it comes with 64 GB of internal memory. If it seems that there is little memory, the phone has a microSD card tray. And he is dedicated.






Samsung Galaxy M21 camera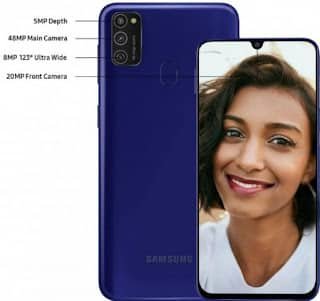 Samsung introduced Affordable Galaxy M21 Price Specifications
A triple camera is an indispensable attribute of any middle class smartphone, we are already used to it. The only question is what will be the configuration of this camera. The Samsung Galaxy M21 equipment is standard. There is a main module built on a sensor with a resolution of 48 megapixels. He is accompanied by a camera with wide-angle optics (a review of 123 degrees) and an 8 megapixel sensor. The third module is a depth sensor for portrait mode (5 megapixels), which itself does not take pictures.

What is missing? There is no telephoto lens that would be useful to many. There is no camera for macro photography, but by and large, it is not needed, so you should not worry about this. There is no optical stabilization, but in the price range up to $ 200 it never happened, and the price of the Samsung Galaxy M21 fits into this range.


The phone has a 3.5 mm jack, which, with a live Type-C, could well be eliminated. Not abolished, and rightly so. There seems to be no NFC module in the Samsung Galaxy M21, but this is not accurate. In European markets (the phone has so far been presented in India), a module for contactless payments may well appear. As the saying goes, ask at city stores.




Specifications Samsung Galaxy M21:
Processor Exynos 9611, 10 nm, Mali-G72 GPU.

Memory: 4/64 GB.

MicroSD slot: dedicated.

Display Screen size: 6.4 inches, 2340 by 1080, AMOLED.

Front camera: 20 MP.

Main camera: 48 MP + 8 MP (123 °) + 5 MP.

Battery: 6000 mAh.

Power adapter: 15 watts.

There is a 3.5 mm jack.

Android 10 + One UI 2.0.

Fingerprint scanner: on the rear panel.

USB Type-C.

Material: plastic.

Case Thickness: 8.9 mm.

Weight: 188 grams.
Samsung Galaxy M21 price and release date
Samsung Galaxy M21 is available in blue and black colors at a price of 12,999 rupees (about $ 175) for the 4/64 GB version. The device will go on sale on Amazon.in on March 23. At the moment, we have information on the Indian market. In this country, the release date of the Samsung Galaxy M21 is scheduled for March 23, 2020. On this day, a 4/64 GB version will appear on sale, which will cost about $ 175.