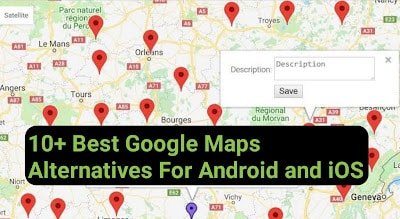 Google map alternatives – 10+ Best Google Maps alternatives for both iOS and Android


In this article we are going to give best alternatives to Google Maps for both iOS and Android Over time we have become accustomed to the hegemony of Google in different technological sectors, and we no longer refer only to the section of smartphones themselves, but also to their software. Also to its applications and services. Like Gmail, which took years to remove the Beta label from its logo, but today it sometimes feels like the only email service available. Or like Google Maps, one of the jewels of its ecosystem of apps.
Are you looking for a good alternative to Google Maps? We will talk about the five best options. If you need only one map, OpenStreetMap can be a simple and effective alternative to Google Maps. Another application – Here WeGo – provides offline access to maps and can be a great alternative, especially for walking on foot. When you travel by car, the most useful will be the constantly updated information on Waze. But if the Internet is not enough or it is too expensive, it's better to use Maps.me at the wheel. Below we will analyze each of the Apps in more detail.
Ten plus Best Google Map Alternatives list 2021
1.Citymapper
2.Waze
3.Maps.me: OpenStreetMap-based navigation
4.TomTom Go Mobile, another great tool
5.HERE WeGo
6.NavMii: free maps only in the basic version
7.MapFactor
8.Sygic
9.Apple Maps
10.OpenStreetMap: An Open World Map
11.Bonus