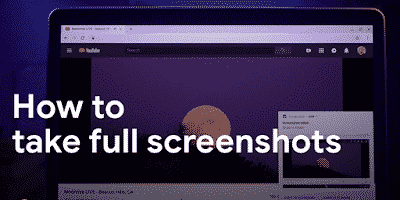 How to Take a Screenshot on Pc Laptop & Chromebook?

We are going to explain how to take a quick screenshot in Windows and chromebook without having to use applications like Paint. There are several keyboard shortcuts to create captures, but if you have reached this article it is because you already know that most of them save the capture to the clipboard, and then you have to use external applications to paste and save them.

However, there is a much simpler way to do it all, and let's focus on it. I already warn you that it is a keyboard shortcut that you are going to have that you are going to have to memorize , but once you do it everything will be easier.







What is a screenshot?
A screenshot ( screenshot in English) is nothing more than a photograph of the screen we take from the same device we are on (without using our phone or camera). Being a .jpg or .png image file , its smaller size compared to a video allows it to be shared more easily.
A screenshot serves different purposes. It can be a practical way to save the content of a web page that blocks copy and paste operations. It is also useful for clearly describing a technical problem or graphically illustrating the steps to follow to run software or operate a device.How to Take a Screenshot or Picture on laptop pc and chromebook?
How to screenshot on pc windows 10?
Windows 8 & Windows 10 and later versions include a small application called Snipping Tool , very useful for capturing a specific area of ​​the screen.
After opening In Mode you can choose between Freeform Crop and Rectangular Crop , in addition to the two types of capture that we have seen previously ( Window Crop and Full Screen Crop ).
Finally, click New and drag the cursor over the area of ​​the screen you want to capture. The capture will then open in a separate window so you can edit it and save it wherever you want.
How to capture the full screenshot on Pc Laptop?
Press the Windows + Print Screen keys (this key can also be called ImpPnt , Print Screen , Print, or PrtScn ). The screen will flicker slightly during the process, indicating that the capture has already been made and saved on your PC.
Tip: you can directly paste the screenshot you just made into a Word document or an email by placing the cursor where you want to paste it and pressing Ctrl + V.

Click anywhere in the window you want to capture and press Alt + Print Screen .

2) In this case the image will not be saved directly to your PC, but will go to the clipboard. To get it back, open Paint or your preferred image editing program and press Ctrl + V.

If you are using a system with two monitors and you want to take a screenshot of only one of them, simultaneously press the Alt + Print Screen keys . This will take a screenshot of the active screen, i.e. where the mouse pointer is located.
In addition to the Snipping Tool, in Windows 10 there is another method to access all these options without opening any application, just through a keyboard shortcut.
Press Windows + Shift + S .

Your screen will darken and a small menu will appear at the top where you can choose what type of capture you want to do (by default Rectangular cutout ).

Keep the main mouse button pressed and slide over the desired area. Release it when you're done. Click on the pop-up notification that then appears on your screen to access, edit, and save the screenshot.
Take screenshots with extension for laptop pc
If you need to take screenshots of your browser very frequently, we recommend the FireShot extension . If you want to go further in terms of options, there are also programs specialized in taking screenshots and even recording videos of what is happening on your screen. The most recognized include Snagit , LightShot , Ashampoo Snap, and Greenshot .
Where are the screenshots saved?

Images will automatically be saved in This PC> Images> Screenshots.
Make ScreenShots On a Windows 10 tablet
If you have a Microsoft Surface device, use the Windows + Volume Down button combination to take a screenshot.
How to take a screenshot on chromebook?
If you are new to ChromeOS, it may seem a bit unknown how a screenshot is made on your Chromebook device. It is very simple, although depending on the manufacturer, it may vary slightly.
There are several options for taking a screenshot on a Chromebook computer with the Chrome OS operating system.
The first thing is to find one of the keys that we will need to take the screenshot. Depending on the keyboard, we will have to use the multitasking key , or, on other keyboards, the F5 key . I have an ASUS C202SA , which comes with the multitasking key:

The fastest option is to use the key combination Ctrl + Chromebook screenYour Chromebook or Chromebox captures the entire screen and saves it as an image in your Downloads folder.
Another option is to use the keyboard combination Ctrl + F5, in this case a screenshot of the entire screen is also taken and saved in the Downloads folder.
To take a partial screenshot there are also two options:
1- Hold down the Ctrl + Shift keys and press Chromebook screenand use the mouse to select the area you want to capture, it will be saved as an image in the Downloads folder of your Chromebook.

2- Hold Ctrl + Shift and press F5 and use the mouse to select the area you want to capture, it will be saved as an image in the Downloads folder of your Chromebook.

Once the screenshot has been taken, a notification will appear indicating that the screen has been captured and the option to open it.

If you want to take a screenshot on tablets with ChromeOS: press the power button + the volume down button.