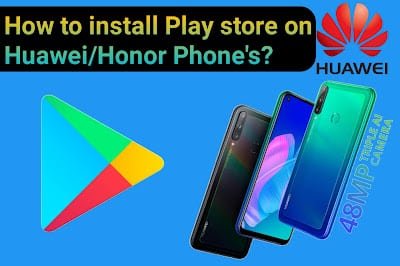 How to install Google Play on Huawei and Honor 2021


The absence of Google services in some Huawei and Honor, without a doubt, is a negative aspect for many Android users. Because of this, some people prefer to buy other mobiles that do have everything that the great G offers. But now, they have created a method to install Google Play on the Huawei and Honor with one click.

In case you didn't know, since the launch of the Huawei Mate 30 last year, the phones of the powerful Chinese brand have come without Google services. And although this has generated many losses for Huawei, there is a solution that allows you to install them in a matter of minutes.

Today we bring you a new method with which to install Google services and applications in a very simple way, with a single application (as we did with lzplay at the beginning), yes, taking a precaution, which is why you should read this entire tutorial in full before doing anything. That said, the method has been tested on the Huawei Mate 30 Pro and on a Huawei Y7p, but we assume that there will be more compatible models, but a Huawei Nova 5T (Chinese model), it is not, for example.




A report from HuaweiBlog reveals a new way to install Google services on Huawei phones with just one click. All you need to do is install an application called " Chat Partner " on your phone. After 5 minutes, you will have Google services running on your Honor or Huawei mobile.



Install Google services in Huawei/Honor with a single touch
This method, as you may have guessed, is based on an application that installs everything you need to enjoy Google services on your phone. It's called a Chat Partner and it weighs 147 MB. We leave you a download link to Google Drive to be able to download it easily:
Once downloaded, we must install it like any other APK that we download from the Internet. Therefore, we must have the unknown sources activated on our phone , although if we touch the notification once the file is downloaded, the menu will automatically open to grant us this permission.








Once the application is installed, we will see that some identification boxes appear, but we will not pay attention to them. At the bottom of this screen, we see the text "Detect Device" appear. When touching on this button, the application will indicate that our phone does not support Google Play services and will show us a button with the words "Repair now". We will tap on that button and let the installation process take place and finish successfully.


Right now, we already have Google services installed on our Huawei phone, in just one minute. Now, until now, the application works reliably and without problems, but we will see how a login screen appears with our Google account. DO NOT DO IT . If you look at the multitasking view, the login is requested by the application itself and is something that should never be done if the application is not fully trusted, because they can obtain our login credentials.






The most recommended is to uninstall the application, restart the phone and proceed to the login from Google Play, which will already appear on the desktop working correctly. The analysis of the application shows that all the files it downloads are reliable and are the ones required to make Google's services work, so simply that step is where we have to take a minimum of care.