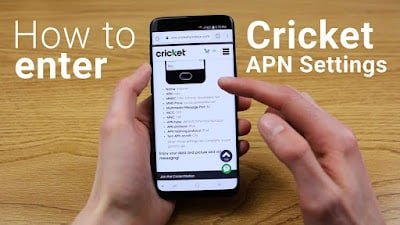 Cricket Wireless APN Settings for android/ios



On some devices, you'll got to update the settings manually. don't fret, that is easy! We'll walk you thru the steps.





Please note: screens could vary slightly for various phone brands.


Go to settings => click connection

now Tap Mobile Networks.

click => Access Point Names.

Click => Internet to edit the current settings for that Access Point.

Add new access point.
Android Manual Edit Access purpose 1Android Manual Edit Cricket Wireless APN Settings
Name: Internet

APN: ndo

MMSC: http://mmsc.aiowireless.net

MMS Proxy: proxy.aiowireless.net

Multimedia Message Port: 80

MCC: 310

MNC: 150

APN type: default,mms,fota,hipri,supl

APN protocol: IPv4

APN roaming protocol: IPv4

Turn APN on/off: ON
cricket wireless apn settings iphone
APN Name: Internet

APN: ndo

Proxy: empty

Port: empty

Username: empty

Password: empty

Server: empty

MMSC: http://mmsc.Cricketwireless.net

MMS Proxy: proxy.aiowireless.net

MMS Port: Leave empty

MCC: 310

MNC: 150

Authentication Type: empty

APN Type: default,supl,mms

6. You are done