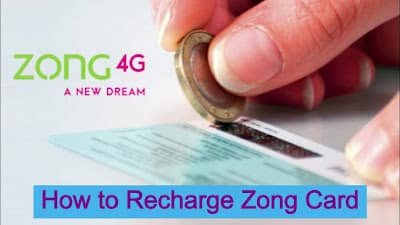 How to load zong card – how to recharge zong card


in this article we are going to tell you how to load zong card you want recharge your zong balance. today we are share full details with you how to recharge and load zong card.so read out full article this article is very helpful for you.zong number one data network in pakistan.how to recharge zong card?




How to recharge zong card

This is very easy a simple and easy method of Zong Card recharge. You can easily recharge Zong prepaid balance with Zong Card Firstly buy card from any nearest store or zong office.



How to load zong card: open your mobile phone dialer and dial *101*14 digit zong card-no#)

Exmple:*101*54xxxxxxxxxxx#

Now you are done Recharge Zong Card.And received sms add balance on your account.

After adding balance to your phone, you can Call SMS your friends and family.
Zong Scratch Card a. Recharge your prepaid Zong account or pay your bills through/ using scratch cards, as and when you deem fit. Zong scratch cards are avail in the denominations of Rs. 100' Rs. 300' Rs. 500 and Rs. 1000 respectively. How to load the card dial 101. or enter *101*cardnumber # and press 'SEND'. b. For Balance inquiry, Zong prepaid Users can dial *222# or 310.
| | |
| --- | --- |
| Packge Name | |
| How to Load Zong Card | |
| Zong card load Charges: | |
| How to Recharge zong card: | |
All Zong Prepaid and Postpaid Users can use this option irrespective of what package they are using.

The rates are excluding all taxes.

this Codes can be changed by Zong anytime.

Zong Company's Terms and Conditions apply and can be read on the Zong website.

Zong Scratch Cards

You can Recharge Zong scratch cards are available in the denominations of Rs. 100' Rs. 300' Rs. 500 and Rs. 1000 respectively. To load the card dial, or enter *101*PIN# and press 'SEND'.
Zong Online Recharge Load
Click on this link and open new page online Recharge

Now you enter mobile Number and your name and email and Security verification

no additional charges to make Card Zong Load code online

you can use and load maximum PKR 20,000 and minimum 50 Rupess.
Zong's Online Recharge zong card or Bill Payment is a secure payment option that allows you can recharge your Prepaid account and Postpaid Bill payment by HBL,easypaisa and much more powered portal. You can use any bank Debit or Credit card (Master or VISA) of your card issuing bank to avail the option.
Amount of Rs 500 or more should be recharged in one go • The offer is exclusive for Online Recharge service and valid for prepaid

users only • Postpald, MBB and Internet SIM users are not eligible for this campaign • Zong reserves the right to revise/remove the offer at any time

*Fair Usage Policy Apply