In Pakistan, there are many people who do not have a bank account in their name. They have to purchase everything from the market on a cash basis and this is really a very difficult task for them because they can lose all their money in case of any emergency. This problem is solved by the Easypaisa debit card which is a new product launched by EasyPaisa that can be used at any ATM or POS machine where you will get balance amount in your account without going anywhere to open it an account. In this article, I am going to discuss how you can activate an Easypaisa debit card online with step-by-step instructions.
The most important thing you need to know is how to activate your Easypaisa debit card. This blog post will teach you how, so read on! Easypaisa is a popular brand in Pakistan that allows citizens to make financial transactions through their website or mobile app. The most common way people use the Easypaisa service is by using it as an online wallet for paying bills and making internet purchases. Another reason why people love Easypaisa cards is that they can withdraw money from the ATM without having to pay any transaction fees, which makes them great for traveling abroad where foreign ATMs charge high rates of withdrawal fees. Now that we've got some background information out of the way, let's start with step one: activating
How to Activate Easypaisa Debit card?
The process of activating the Easypaisa debit card is very straightforward. The first step you should take is to visit your nearest Telenor microfinance bank branch and fill out an application form for a new account. You will then need to provide some identification documents including, but not limited to, your passport or driving license depending on which country you are from. Once this has been done, the next step is to activate the card by entering any phone number that isn't already associated with an Easypaisa account in Pakistan.
We are sharing with you two methods to activate your Easypaisa Atm card just follow simple steps:
How to Activate Easypaisa Debit Card after Receiving?
First of all, open an Easypaisa account on your Phone then log in.
Now click on my account option after that you can see many options
But You select the manage debit card option just click on it.
Just Scroll Down now and Click on I have received my card
After that Enter the last four digits of your card number & click on the Next button.
Now Create your Card Pin enter 4 digits 2 times then click on Activate Card button.
Activate your Easypaisa cars successfully.
Also Read: How to Open New Easypaisa Mobile Account
Activate your Easy Paisa Card in Details
Just open the easy paisa app enter your number login.
Now just click on My Account Button.
After Click on manage debit card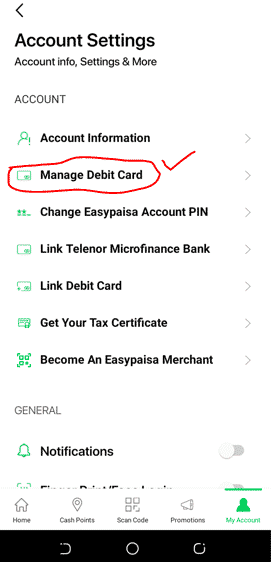 Now you can see the button I have received my card just click on them.
Now Type the last four digits of your card number. after Click on the next button.
Now Create your Card Pin enter 4 digits pin code 2 times and click on activate button.
Now Active your card you can use any atm.
How to Activate your Easypaisa Card Without App?
Another best method is to activate your card without an app.
Open your Phone Dialer and Dial *786# from your Phone.
Now Type 6 select the My Account Option then click on the send button
After You can See Option Manage ATM Card Just Type 6 and Click on Send.
Now Select the Create the ATM Pin Option Type 1 click on send.
After that Enter the last four digits of your card number & click on the send button.
Now Create your Card Pin enter 4 digits 2 times then click on Activate Card button.
Benefits of Easypaisa Card
There are many benefits to having an Easypaisa debit card which you can use to make purchases both online and offline. It is very useful for people living abroad who want to send money back home, pay bills or even buy things online without the hassle of carrying cash around with them all the time. This article will explain what exactly an Easypaisa Debit Card is, how it works and why you should get one! Having an easy paisa debit card has its perks. While there are numerous reasons as to why someone would want one, this blog post will focus on three major benefits that come along with owning one of these cards. Before we dive into those, however, let's quickly look at what.
The Easypaisa Debit Card is designed for customers who want to pay their bills, buy groceries and other household items, send remittances abroad, withdraw cash from ATMs, and more. The card offers competitive rates on international transactions as well as domestic ones. It also comes with advanced security features like PIN protection and EMV chip technology that make it safer than traditional plastic cards. The Easypaisa Debit Card can be used anywhere in Pakistan where MasterCard is accepted – which includes all major grocery stores (Hyperstar), restaurants (Pizza Hut), or any of the over 1 million merchant locations worldwide that accept MasterCard debit cards.
Pakistanis are more tech-savvy than ever before, and that's why Easypaisa has created the new debit card. This debit card is for people who want to make their lives easier while still staying within their budget. It eliminates the need of withdrawing cash from an ATM or using credit cards since it can be used anywhere with a swipe. The Easypaisa Debit Card also gives you three free transactions on your first day so you can get adjusted to the new system without having any fees come out of your pocket! No more waiting in line at ATMs or wasting money on extra charges when you're just trying to buy groceries – this debit card will change your life!