Today We are going to tell you about how to check vehicle registration through sms you can check bike car any vehicle you want check your vehicle registration through sms then you read out full article this article is very helpful for you.New SMS Vehicle Verification Service launched in Punjab.islamabad vehicle verification through sms
How to Check Your Car Bike Registration Through Mobile Messsage In Punjab
The service has been launched to collect all taxes levied on vehicles at the request of the tax authorities. Token, income and other tax information can be obtained by sending an SMS to 9966 and giving you other details such as the name of the owner, the name of the person designated car or if you resell all this information. You can receive in one message. Message. These services are very helpful to the staff of the department. They can get information about any car or other vehicles in just one SMS.
You can easily check the ownership, registration and tax details of your vehicle, motorcycle or any other vehicle and just send an SMS containing the registration number of your vehicle to 9966. And you will find all the important information on your mobile.
For More Details or any query help or assistance, you can contact toll free number 0800-9966.
How to Check Vehicle Bike Car Registration through Message?
Got you Write Sms and type Car number and send it 9966

After Few Second SMS from the Excise and Taxation Department Received.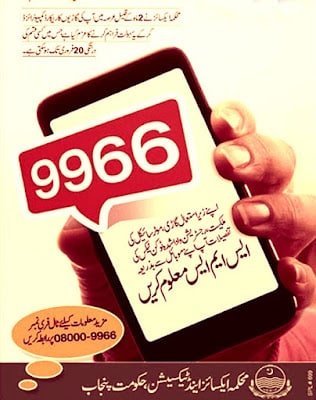 How to Check Free any Vehicle/Car Owner Details and Registration Details Online in Pakistan
You Can Check Engine and Chassis Number

You Can Check Tax Paid

You Can Check Registration Year

You Can Check Token Paid Up to

You Can Check Owner Name

You Can Check Type and Company of Vehicle

You Can Check Color

You Can Check Issuance Status of Computerized Number Plates
How to check any vehicle registration through sms?
you want check any vehicle like bike car just follow setups:
Open your Messages and write sms type registration number send it to 8785

After you received all details your vehicle.
How to Check Free any Vehicle/Car Owner Details and Registration Details Online in Pakistan.
this method is very easy and simple
Check vehicle verification punjab
Firstly Click on this link http://mtmis.excise-punjab.gov.pk/ and open offical site.

And enter your Vehicle number car bike etc. and after click i am not robot after verifications click on search.
After Show all Details Owner Details,Latest Payment Details,Chassis Number:

Engine Number:

Make Name:

Registration

Model:

Vehicle Price: 0

Color:

Token Tax Paid
Check vehicle verification kpk
Check vehicle verification Sindh
Hope you like this article kindly share this article on social media with your friends and family.