TECNO is one of the most popular phone companies in World. If you are a TECNO user, you may have questions about your phone's warranty status. This blog post will show you how to check your phone's warranty online. TECNO provides a warranty for all its products, and this online tool makes it easy to determine your phone's warranty status.
TECNO phones are a force to reckon with in the mobile phone industry. The Chinese manufacturer offers quality devices at an affordable price, and its product line has something for everyone. Whether you're looking for a budget-friendly option or a high-end flagship, TECNO has you covered. The company's most popular devices include the Spark series, which offers excellent value for money, and the Pouvoir series, which delivers powerful performance without breaking the bank. In addition to its impressive lineup of smartphones, TECNO also manufactures tablets, TVs, and other electronics. With its innovative products and competitive prices, TECNO is quickly becoming a leading name in the world of consumer electronics.
How to Check TECNO Warranty Online?
If you have recently purchased a TECNO product, you may be wondering how to check the warranty status. Fortunately, TECNO makes it easy to check your warranty online. All you need is the serial number of your product and a few minutes of time. Here's how to do it:
First, visit the TECNO warranty page. Enter your serial number in the field provided and click "Check Warranty." A new page will load with information about your warranty coverage. Here you will find the start and end date of your coverage, as well as any exclusions that apply. If you have any Problem or questions about your phone warranty, you can also contact TECNO customer service for assistance.
 Checking your TECNO product warranty is quick and easy. By taking a few minutes to do so, you can ensure that you are covered in case of any problems down the road.
Tecno Warranty Check Online Pakistan Complete Guide You
If you're wondering whether your Tecno phone is still under warranty, there's an easy way to check online. 
Just visit www.tecno-mobile.com/warranty and enter your phone's IMEI number. 
You'll see the purchase or activation date, and you can add 12+1 months to that to see if the warranty is still valid.
So next time you're considering taking your Tecno phone in for repair, be sure to check the warranty first!
How to find your IMEI number?
There are three ways to find your IMEI number:
1. Check the phone package box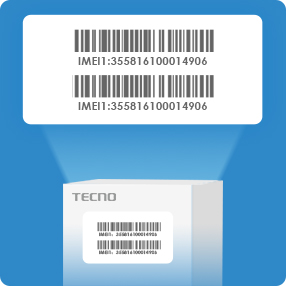 The IMEI number is usually printed on the phone package box, so you can check it when you first receive the phone.
2. Check in Settings
If you can't find the IMEI number on the phone package box, you can also check it in Settings. The specific path is: Settings-System-About phone-Status.
3. Check IMEI Through Code
Or you can directly enter *#06# on your phone to display the IMEI number.
If you still can't find your IMEI number, please feel free to contact us.
Tecno offers a wide range of products with different warranty periods. Please check the individual product pages for more information on the warranty period for each product. Tecno warrants its products to be free from defects in materials and workmanship under normal use and service for the specified period. This limited warranty does not cover damage resulting from abnormal use, abuse, neglect, improper storage, accidental damage, or repair or modification by anyone other than Tecno. This limited warranty does not cover consumable items such as batteries and light bulbs. Please contact our customer service team if you have any questions about our warranty policy.
Tecno offers a limited warranty on its phones and tablets. The warranty period is 12+1 months for phones and tablets, and 6 months for accessories. If the device is removed or defaced, the warranty is void. Tecno will repair or replace the device at its discretion.
(FAQ)
How do I check my Tecno warranty?
If you want to check the warranty status of your Tecno phone, you can do so by visiting the official Tecno website. Once there, locate the 'Warranty' page and enter your phone's IMEI number. This will allow you to see the purchase date of your phone and compare it with the current date. If your phone is still under warranty, you will be able to get it repaired or replaced by Tecno. However, if your phone is no longer under warranty, you will have to pay for the repairs yourself.
How long is Tecno warranty?
Tecno offers a 12+1 month warranty on phones and tablets, and a 6 month warranty on accessories.
How do I get the IMEI number?
If you need to find your phone's IMEI number, there are a few ways you can do it.
One way is to open the settings menu on your phone and then select the "System" option. From there, you should see an option for "About phone." Select that, and then choose "Status." The IMEI number should be listed there.
Alternately, you can dial *#06*# on your phone's keypad. This should pull up the IMEI number as well.
Finally, if you have the original packaging for your phone, the IMEI number should be printed on a label on the box.
Hopefully one of these methods works for you and you are able to find your IMEI number!
Conclusion:
Tecno has been known to offer some of the best smartphone devices in the market. The company also offers an amazing warranty service that allows customers to check their device status online. This post provides a guide on how to check your Tecno phone warranty status online. Thanks for reading!